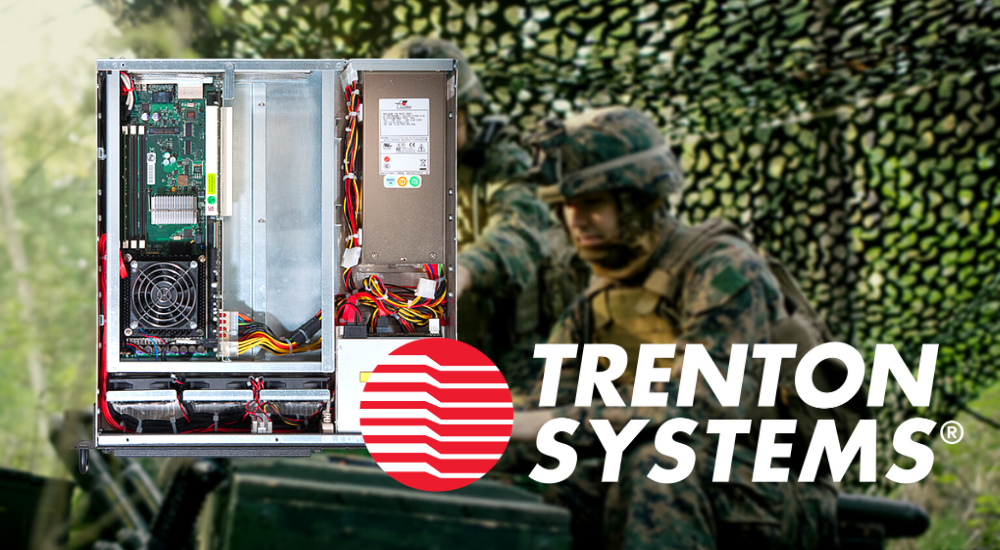 Graphic: Trenton Systems has supplied hundreds of secure rugged computers to a major technology company in support of an Army SATCOM program.
Trenton Systems has supplied more than 500 2U rugged computers with Trenton-custom Windows Management Instrumentation (WMI) software to a major technology company supporting the U.S. Army's Modernization of Enterprise Terminals (MET) program.
The mission of the MET program is to replace aging, bandwidth-limited infrastructure with state-of-the-art satellite communications (SATCOM) terminals that leverage the vastly increased data throughput capabilities of the Department of Defense (DoD) constellation of Ka-band wideband global SATCOM satellites, according to the Army's Acquisition Support Center (ASC).
The Army has incorporated Trenton Systems' rugged computers with custom WMI software into these fixed and field-deployable military satellite communications terminals worldwide.
In a small room, our rugged computers are there, automated, supporting the military's satellite communications and missile defense systems while also using our custom WMI software. In addition to providing the Army with rugged computers that supported their in-field, real-time SATCOM efforts, our chief software architect, Robert Seymour, actually wrote the code for the WMI software, which is used to monitor the system's health and aid in making any necessary changes to ensure that the system remains operational.

        Leigh Santos, Strategic Account Manager
For Seymour, customizing the WMI software to satisfy the company's system management requirements was no difficulty. Customers frequently ask Seymour and his team to design custom, version-controlled software on which they can rely for years to come.
This custom, version-controlled software monitors the RAID drives, network, system temperatures, system fans, power supplies, voltage, CPU health, and other properties. We added what was necessary for the software to monitor the system's hardware in a manner consistent with what the customer had come to expect from their previous vendor. This version allows them to assess the health of the system in mere seconds and make changes accordingly.

        Robert Seymour, Chief Software Architect
Trenton's revision control process ensures that the company is receiving the same custom hardware-software configuration during their nearly decade-long support for the MET program.
This process was at the heart of why the company chose Trenton to support the MET program, Santos said.
Yes, the custom WMI software was a big deal for this customer, as was being able to install their own input/output (I/O) cards, but our revision control process was a big piece, too. If any significant hardware or software revisions are made to this system, it shuts down, and those could cause major revision headaches and even jeopardize national security if the changes are not properly communicated. Trenton Systems is and always has been big on security and ensuring that its nation's military forces have, for 11 years or longer, the high-performance computing solutions they need to serve and defend this great country.
Trenton's revision control process involves not only maintaining a master list of approved components and parts but also their replacements, which are well-researched, vetted, and approved in advance to avoid last-minute, potentially security-compromised revisions.
As a designer, manufacturer, assembler, integrator, tester, and supporter of high-performance computing solutions, Trenton Systems also controls the manufacturing process throughout the entire supply chain, the security of which is augmented by Trenton's supplier quality surveys and Counterfeit Protection Program (CPP). This helps ensure that no malicious or counterfeit electronic parts are introduced into the chain, where they could compromise the security of mission-critical servers and workstations.
For more information about Trenton Systems' revision control process, check out How Revision Control Secures Your Computer.
You can also learn more about our cybersecurity practices and procedures in A Master List of Trenton Systems' Cybersecurity Advantages and Solutions.
If you're interested in a solution similar to or different than the Army's MET rugged computer, we're here to help when you're ready.
About Trenton Systems, Inc.
Trenton Systems designs, manufactures, assembles, integrates, tests, and supports made-in-USA rugged servers, workstations, processor boards, PCIe backplanes, storage systems, blade servers, PCIe expansion kits, mini PCs, and custom, high-performance computers for programs and applications operating in harsh environments worldwide.
Founded in 1989, Trenton Systems provides the defense/military, government, industrial, and commercial markets with in-house engineering, testing, and support services, computer life cycle planning, revision control, a five-year warranty, and customization/configuration support.
Trenton Systems' rugged computers and components meet or exceed UL, CE, FCC, ITAR, and military standards (MIL-STD-810, MIL-STD-461, MIL-S-901, DO-160), are backed by a five-year warranty and in-house support, and are manufactured in the company's Lawrenceville, Georgia, USA facility, which is certified to ISO 9001:2015 quality management standards.