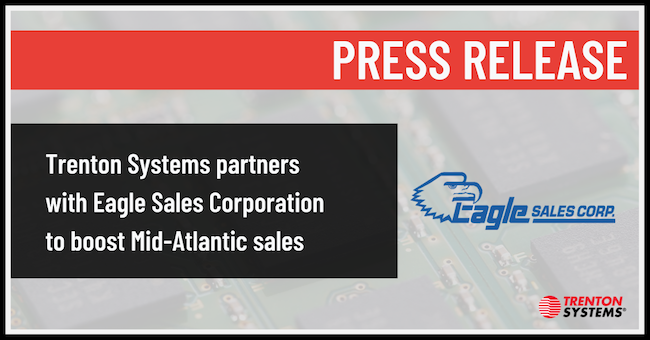 DULUTH, GA – Trenton Systems has joined forces with a new brand partner, Eagle Sales Corp., for expanded sales coverage in the Mid-Atlantic region, encompassing New Jersey, Pennsylvania, Delaware, Virginia, Maryland, and Washington D.C.
Founded in 1982 in Frederick, Maryland, Eagles Sales Corp. is a highly-trusted, well-established manufacturer's representative, serving customers in the military, commercial, space, and industrial markets that provide mission-critical technology such as ruggedized computers and embedded solutions. 
"It's an honor to partner with the outstanding team of sales and marketing professionals at Eagle Sales to further bring Trenton's story of quality, custom, USA-made computing to the Mid-Atlantic region," said Sean Campbell, Chief Commercial Officer at Trenton Systems. "With a proven track record of success with some of the largest technology companies and military primes, we are confident that working with Eagles Sales will prove to be a fruitful endeavor for both companies." 
With over two decades of experience, Eagle Sales has helped to drive meaningful results for their customers with world-class engineering services and CMOSS/SOSA-aligned solutions. 
Eagle Sales has also partnered with leading manufacturers as well as hardware/software design groups to solve complex, leading-edge technology challenges.
David O'Neill, account manager at Eagle Sales, says he's excited to partner with Trenton to spread the message of why cybersecure, USA-made computing matters now more than ever. 
"We here at Eagle Sales are thrilled to be teaming with Trenton Systems. In the face of supply chain difficulties and advanced cyberattacks, Trenton's story of cybersecure, USA-made computing will help further public support for US manufacturing," said David. "We are proud to be helping Trenton provide peak performance, ruggedization, and security for our mil-aero account base across all domains." 
To learn more about how we can help you craft a high-performance computing solution for your program or application, contact Trenton Systems at 770-287-3100 or info@trentonsystems.com, or Eagle Sales at 667-221-2859 or sales@eaglesales.net.
About Trenton Systems
Trenton Systems specializes in the design, manufacture, assembly, integration, and support of truly made-in-USA
rugged servers
and
workstations
,
processor boards
,
PCIe backplanes
,
storage servers
,
blade servers
,
PCIe expansion
,
mini PCs
and
custom high-performance computers
for applications operating in harsh environments worldwide.
Founded in 1989, Trenton Systems provides the defense/military, government, industrial, and commercial markets with in-house engineering, testing and support services, computer lifecycle planning, revision control, warranty, and customization/configuration support.
Trenton Systems' rugged computers and components meet or exceed UL, CE, FCC, and military standards (MIL-STD-810, MIL-STD-461, MIL-S-901, DO-160), are backed by a five-year warranty and lifetime in-house support, and are produced in the company's Lawrenceville, GA, USA facility, which is certified to ISO 9001:2019 and AS9100D quality management standards.
About Eagle Sales Corp.
Eagle Sales Corp. is a professional sales and marketing firm in the Mid-Atlantic representing industry-leading technology providers specializing in rugged computing, electronic packaging, embedded solutions, power supplies, hardware/software design, and electronic/RF components. 
Eagles Sales has relationships with the area's engineering, management, material, and purchasing experts, aligning customers' technical requirements with industry-leading manufacturers and system architects.
When you work with Eagle Sales, you work with experts aligning customer requirements with industry-leading COTS and custom solutions, all while staying informed on the latest industry solutions.
©2022 Trenton Systems, Inc. All rights reserved. All marks are the property of their respective owners. Design and specifications are subject to change.