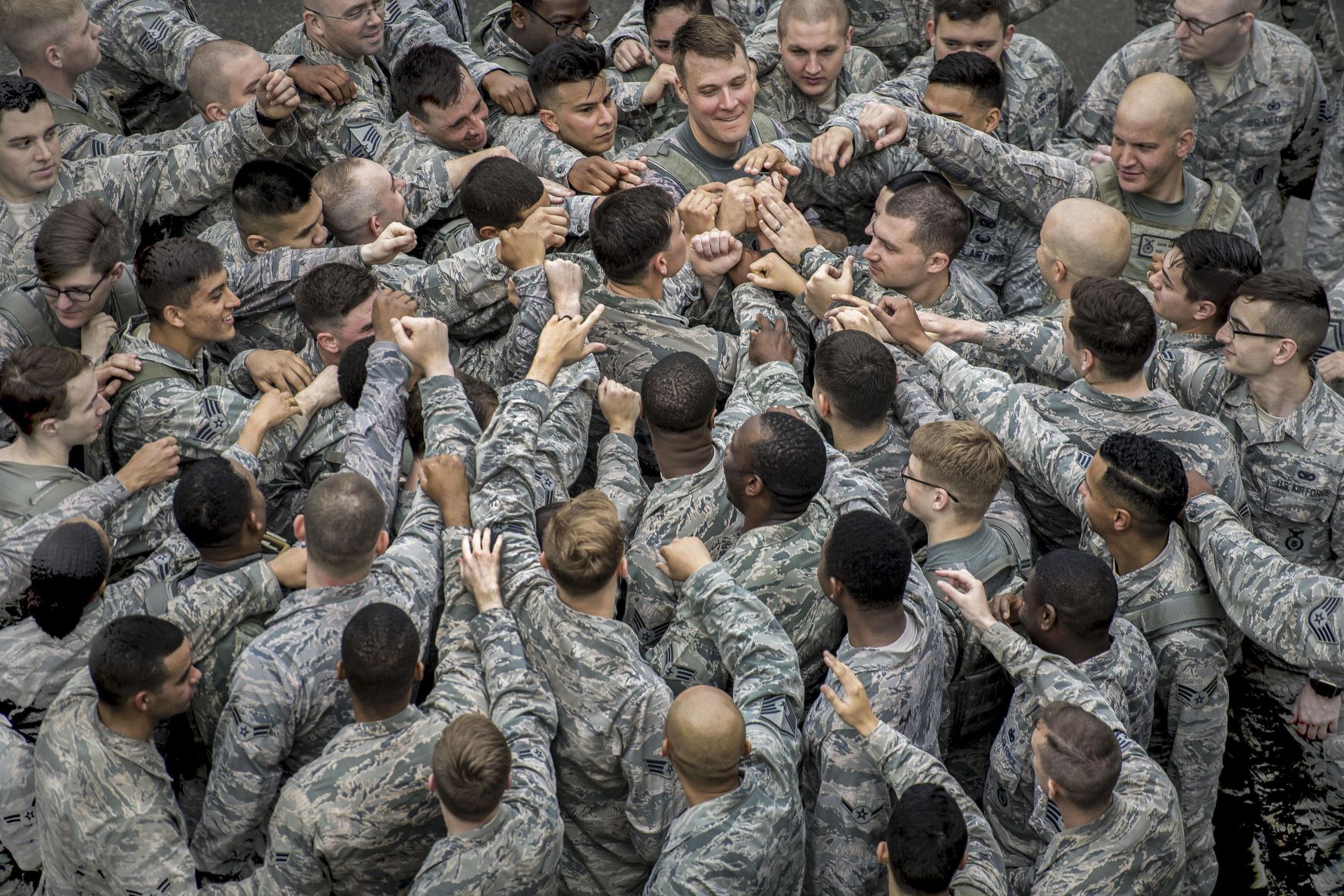 As you continue to lead, your influence impacts more and more people. You look for opportunities to invest in them. Over the years, you may even build a community among those you mentor. They reach out to you when they approach significant career decisions. Maybe you share resources and thoughts with them through text, email, and on social media. You invest in them, but one at a time and in separate channels.
But…what if you had a way to bring them together? What if you had a way to build real community among those you lead?
Today, I want to share a leader development resource and offer some ideas about how you can build community for those you lead, whether that group is a part of a military unit, a business, or a distant group of leaders you have inspired in the past.
Airmen join in a group huddle at the conclusion of the Police Week Memorial 5K Ruck March at Yokota Air Base, Japan, May 15, 2017. The airmen are assigned to the 374th Security Forces Squadron. Air Force
photo
by Airman 1st Class Donald Hudson.
A Community of Leaders
I'm excited about this topic because I recently came across a community-building platform called Circle. Circle is what you wished you could get from your Signal and WhatsApp groups, Slack channels, and Facebook pages.
Circle is a software platform that's solely focused on building community and integrates countless applications and engagement opportunities. You can share links, resources, files, and video, as well as connect live to your community…all from within the platform.
I am convinced that "community is the new content" and I was so impressed with Circle's design that I immediately signed up and began building a community for The Military Leader audience…which will be available in the coming months!
The Vulnerability of Social Media
There's another important reason to consider Circle for your leader engagement…Circle communities are not public.
Circle is a private, invitation-only platform that search engines cannot index. So, you can connect with other leaders in a more authentic and candid way than you ever can on social media. No trolls. No unwanted criticism for sharing your ideas. Just a group of like-minded leaders who appreciate your investment in their development.
Who Needs a Community?
There are two types of people who could benefit from starting their own community:
Leaders who want to bring together those they mentor and influence into one space, and…
Content producers who have an audience and want to bring them together in a more authentic and connected way.
If you fall into one of these groups, consider some of the many ways you could use community to build connections among those you lead and achieve greater influence.
20 Ways to Build a Community of Leaders
As I mentioned, Circle is the perfect platform to consolidate your leader network and create a more personal engagement experience for those who respect and follow you. As I've used Circle, I've found that the user interface is intuitive, easy to use, and flexible enough to customize to your needs.
Think of it as your own private blog, or a meeting space for your mastermind group of mentors. The possibilities are endless!
Here are a few thoughts about how Circle can enhance your impact as a leader:
Simply put…Circle brings your influence network into one space instead of fragmented among numerous channels.
You can create the meaningful conversations you aren't getting at work.
Generate niche conversations around specific topics like strategy, leadership, fitness, or any other professional area that you care about.
Easily share the hard-earned lessons you have throughout your week.
Pass on an article, book, podcast, or TED video that was meaningful for you.
Create a book or movie club where your audience can comment and dialogue in one space.
Go live with that club and host engaging "face to face" discussions.
Share files you are using, like counseling templates, talent management files, etc.
Create an accountability group to inspire productive habits among your fellow leaders.
Post your personal high and low moments as you walk your leadership journey.
Invite others to post their wins and challenges, then garner high fives and feedback from the community.
Host guest speakers and senior leaders in live webinars for your group.
Create and host a weekly mastermind group to challenge your development and offer insight.
Create a video course to walk your audience through a challenge and share your perspective on solving it.
Propose a "question of the week" to your protégés.
Share a "quote of the week" and invite discussion among your team.
Host a weekly "Ask Me Anything" or "Office Hours" call to increase engagement with your audience.
Create another outlet to share your article, podcast, video, or book.
Use Circle community engagement to augment your unit or company's leader development programs and events.
And most importantly…build a space where you can bring together the many, many junior leaders you have influenced over the years and keep them together as you move on to other opportunities.
How to Build Community
Whether you are a leader of many or a content producer with an audience, I invite you to check out Circle today. They have a 30% discount through December 2nd and you can easily schedule a demo to check out all that the platform can do for you.
Of course, if you have questions you can also post a comment below. Lead well!
Start Building Your Community Now!
Related