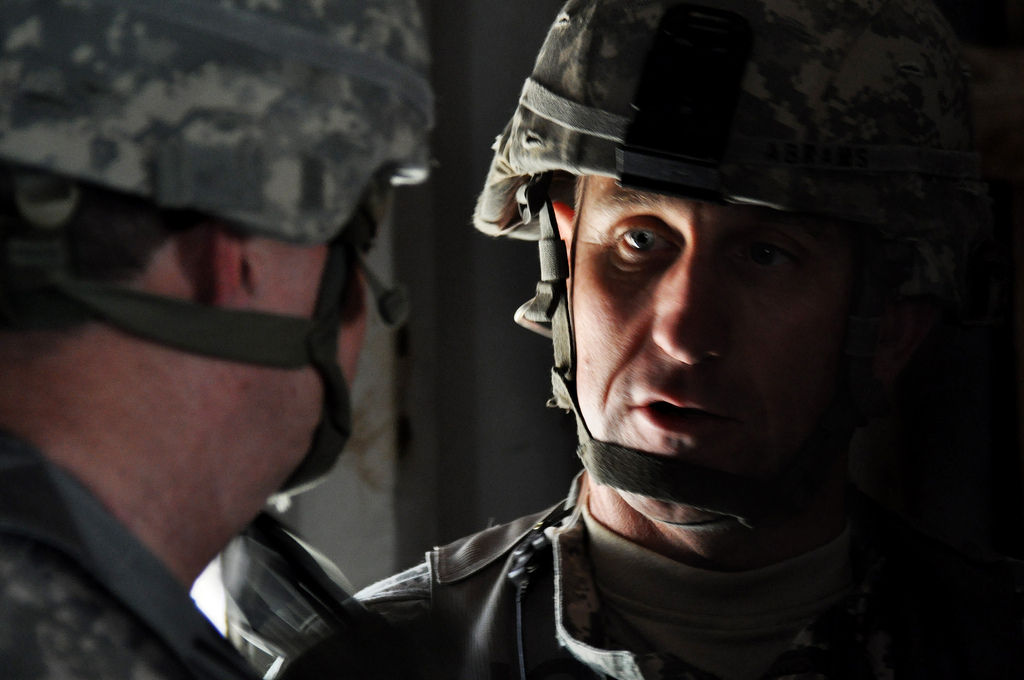 Spotlight Ranger. That's the label service members use to characterize people who put in average performance day to day, then put on a show whenever the boss is around. Soldiers see right through them and they earn little respect in the unit.
While you must at all costs avoid becoming a spotlight ranger (i.e. dedicate yourself to superb performance regardless of the audience), you don't want to miss an opportunity to showcase your unit's good work to your boss. The first post in this series focused on how to start off on the right foot with a new boss. Today's post looks at how to engage during three types of opportunities you will encounter during your tenure as leader.
Brig. Gen. Robert B. Abrams, National Training Center commanding general, briefs Gen. Martin E. Dempsey, TRADOC commanding general, during Dempsey's visit to Fort Irwin, Cali., Sep. 23, 2009. (
U.S. Army photo
by Sgt. Angelica G. Golindano.)
When to Engage
Success in any endeavor depends largely on seizing opportunities. Engagements come and go throughout each day and the best leaders recognize and prepare for the engagements that will provide the greatest return for their team and themselves. I once had a Command Sergeant Major who gave his commander this advice on day one, "Focus on meeting higher headquarter's priorities so that you can gain maneuver space for us to do what we think is important."
Opportunities to achieve effects with your boss will include three types of engagements: Touchpoints, Planned Encounters, and Decisive Engagements.
Touchpoints
Touchpoints are the informal, unplanned, everyday events with your boss that are typically not on the calendar. Emails, phone calls, and drop-by visits are touchpoints. Second hand information is also a touchpoint, although you may not be present to witness it. Touchpoints are important because they inform your boss's opinion about your day to day leadership. How do you handle routine problems? Are you informed about your own unit's activity? Do you live the boss's priorities or only focus on them occasionally?
Planned Encounters
These are your meetings and scheduled events with your boss. It's the training, staff, or maintenance meeting. It's the Monday morning run to catch up, as well as the Friday afternoon closeout huddle to wrap up. Planned encounters are likely where you'll spend the most time with your boss and will often include your adjacent unit leaders. These opportunities will reveal your personal preparation and your unit's staff capability.
Decisive Engagements
Decisive engagements are your championship playoff games. They are decisive because they set the tone for your time as leader and could (for better or worse) overshadow other work that you and your unit are doing. A change of command is a decisive engagement, as are major training events. Hosting a unit-wide social function is a decisive engagement. Any event that your boss's boss will be at is a decisive engagement. Depending on your boss, your periodic counseling could be decisive. You must nail these opportunities.
How to Engage
Remember, every engagement with your boss is a chance to achieve some type of effect for you and your organization. Those desired effects don't materialize during casual conversation, they form from deliberate thought and careful revision. They shape the environment that will allow you and your unit to achieve success.
Depending on your leadership environment, determining when and how to engage can be challenging. Your best advice will come from your senior enlisted advisor, your mentors, and your spouse. Beyond their tailored recommendations, here's how to achieve effects when you get the opportunity:
Prioritize priorities. What are your boss's priorities? What are my priorities? How can I clearly communicate which ones I am supporting? You can accomplish a hundred "good ideas" a day, but if you don't fulfill the one or two priorities your boss cares about, you'll fail. Show that you are nested with their efforts, which you can certainly do in creative ways that give your unit character apart from others. (Tip: knowing your boss's priorities from memory will prime you for the touchpoint moments.)

Pick subordinate team members to highlight. Talking about subordinate accomplishments instead of your own is one of those classy habits that separates good leaders from great leaders. Whether it's in a public setting or in a private meeting, it's ok to talk about what your unit leaders are doing to make a difference, especially if it achieves one of your boss's priorities. Specifically, pick one leader that your boss senior rates and one or two Soldiers that recently stood out. Highlight them during a public meeting or during a speech. It'll put them on the radar and reflect positively on the unit as a whole. Unit visits are also a good time to ask your boss to present awards to outstanding performers.

Share instances of adjacent unit cooperation. As I mentioned in How to Survive a Shrinking Army, "People who devote time to improving those around them cannot help but be noticed in a positive way." When you get time with the boss, especially in unit meetings where your peers are present, talk about the good stuff that is happening between the units. Highlight how you are strengthening across the teams, which is to say, "Sir, here is how we are building your team."
Comment on areas of growth. Show your boss that you and the unit are moving forward. Discuss some key areas that you are trying to improve, either from recent training feedback or through strategic planning. This will make it evident that you are in tune with your unit's performance and are personally involved in strengthening its capability.
Create more opportunities. Not every leader naturally gets out of the office to visit the troops. If that's your boss, you have to take the initiative. Scour your calendar for events that show off what your team is doing and invite your boss.

Prepare and rehearse. You'll have to wing most of the touchpoint moments, but you'll achieve greater effects if you put some time into preparing for the planned events like meetings and functions. Create talking points, run them by your trusted advisors, align them with your fellow leaders left and right, anticipate questions and branch topics, and practice.

Win the Super Bowl! For decisive engagements like unit visits by senior leaders or major training events, you have no option but to nail it. Direct numerous meetings to review the plan and allow 5 times as much time as you think you'll need to prepare. Dive into the details, challenge assumptions, question the availability of resources, and plan multiple dress rehearsals. Being a meticulous leader is ok in these moments….you don't want some simple oversight like technical difficulties or protocol slights to distract your boss from the point of the event. Get honest feedback by asking someone outside the organization to scrub the plan and watch the rehearsals. Your goal?…send a clear message in a frictionless environment to achieve specific effects.
Closeout
Encounters with your boss will range from quick emails to hours-long visits at the range. You must be ready to purposefully engage to achieve effects that 1) meet your boss's priorities, 2) highlight your team's accomplishments, 3) build the team across, and 4) create more opportunities.
The next post in this series will deal with how to engage your boss in the different types of decision situations you might face. Influencing him or her to change their mind on a policy requires a different approach than seeking to gain approval on one of your own initiatives. We'll look at how to prepare for those and other types of encounters.
Questions for Leaders
Take a look at your calendar. How could you better maximize your events to achieve effects with your boss?
What good work is your team doing right now that you could highlight to your boss?
If your boss walked through your door right now, would they see that you fulfilling their priorities…or only yours?
Subscribe to The Military Leader
Complete Archive of Military Leader Posts
Related